Retaining Wall White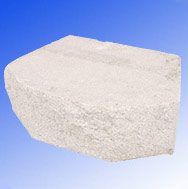 Retaining Walls

Outline the area with a string line. For curves, use a garden hose. Using a shovel, remove sod and soil approximately 12" wide by 2" deep along the entire length of the wall. (For walls over 24" high, dig an extra 2" deeper for the base course of retaining wall block.) Compact the base using a tamper or plate compactor.
Spread and level about 1" of Leveling and Joint Sand over the entire length of the wall. This sand will allow you to level the retaining wall block.
Begin laying the base course of the wall. Level each block, both side-to-side and front-to-back, with a 2' level. Tap the block with the wooden handle of your hammer to bring the block into level. Remember, if the base course blocks are level, the rest of the wall will be level. NOTE: FOR WALLS HIGHER THAN 4', CONSULT AN ENGINEER.
Stack the next course in a running bond pattern. Fill in behind each course as you go with washed gravel. For walls taller then 24", put washed gravel 6" deep behind each course. the last 4" at the top of the wall should be filled with top Soil for beautiful plant or sod growth. Half blocks for the ends of every other course are easily made with your hammer and chisel. Using these tools, score the top of one block in the center, turn the block over and place the chisel in the splitting groove. Several sharp blows will separate the two sides into two end blocks. PLEASE USE EYE PROTECTION!
NOTE: Color variation will occur in concrete products due to variations in dye lots, raw materials and manufacturing processes. Our company makes no warranty, whether expressed or implied as to identical color matches. For all projects, we recommend you purchase all pieces at one time.

NOTE: Efflorescence is a white haze that may appear on the surface of the pavers. It may appear randomly or, in certain areas and will be more pronounced on dark colored pavers. It will stop when the supply of calcium hydroxide is exhausted. If you live in an area of frequent rain and sunny days, efflorescence and its passing may occur quickly. The process may take much longer in drier climates. typically, efflorescence will stop developing in approximately 18 to 24 months.

Efflorescence may be cleaned with commercially available cleaners formulated specifically for concrete pavers. Cleaning should be performed immediately after efflorescence has appeared. It may reappear as long as the chemical reaction continues and cleaning may need to be done until efflorescence has stopped.